This post may contain affiliate links. As an Amazon Associate we earn from qualifying purchases.
No more hoses near your car, capsized buckets or soap-filled sponges that make your wife go crazy. The fundamentals behind the Waterless car washing will literally change your life. And the time is now to start living in an eco-friendly manner.
We are going through hard times right now, and water conservation is something we all have to think of. For instance California is telling its residents to stop wasting water unless they want to face fines of $500 a day. This occurred after a new report showed usage during the state's ongoing drought has risen 1 percent since last year. The regions under control are Los Angeles, San Diego and Ventura Counties, and they all have to voluntarily put an end to non-essential or unauthorized water use.
"Given the likelihood of yet another troubled water supply year, California American Water wants to help its customers reduce water use and understand the importance of wise water practices," said California American Water's general manager, Todd Brown. "Due to the critical state of the water supply in California, we are joining other local and regional water agencies' call, and are encouraging our customers to conserve right away, in advance of possible additional measures that may need to be implemented in the near future."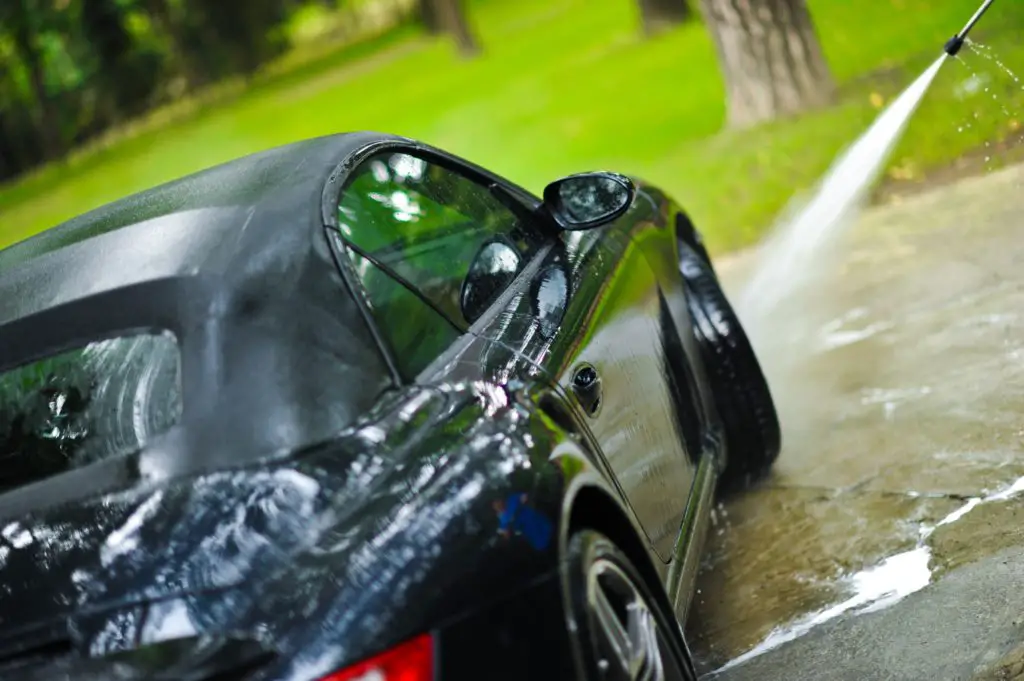 Among these "non-essential or unauthorized water uses," one can find rule no. 3 that reads as follows: Use of water for washing aircraft, cars, buses, boats, trailers or other vehicles without a positive shut-off nozzle on the outlet end of the hose. Exceptions include washing vehicles at commercial or fleet vehicle washing facilities operated at fixed locations where equipment-using water is properly maintained to avoid wasteful use.
This is the perfect timing for the exploitation of waterless car washing. Waterless car wash products usually have greater cleaning power than quick detailers. These products combine surfactants, lubricants and pH builders in order to help break down surface grime in an effective way. And the most important thing about this method is the fact that it saves up to 53 gallons of water per car!
Unless your car is extremely dirty, just take a waterless carwash substance and 2 microfiber cloths, one for washing, and the other one for waxing. Make sure your car is under shade, as real eco-friendly cleaning products are water-based and they will evaporate quickly if sprayed on a hot car panel, this resulting in streaking if you do not remove them in a timely fashion. 
Nevertheless, in case you've driven your car off-road, little water is required in order to remove heavy dried dirt. Once you're through with this operation, the waterless car wash formulas will take care of lifting the dirt away from your car's paint and ensure a scratch-free finish. The powerful plant-based surfactants dissolve grime quickly, and polymers leave a glossy finish. Plus, the spray-on method eliminates untreated run-off and conserves up to a hundred gallons of water every wash.
Just to get the whole picture, hose and bucket wash uses between 80 and 140 gallons of water per wash, according to the International Car Wash Association. As far as commercial car use is concerned, it uses about 45 gallons of water per wash, not to mention the hefty energy requirements, as well as the impact on the land, with all those chemicals draining all the time.
On the other hand, waterless car was only requires 4 to 6 oz. of waterless car wash formula per car.
These eco-friendly cleaning solutions also protect against damaging UV rays and keeps dirt away from your car for a longer period of time. 
As cool as it may appear, the waterless car washing method has to use some water from time to time. But it means using significantly less water than any other method available to consumers, in a time when water supplies may be insufficient to meet customer demands.