This post may contain affiliate links. As an Amazon Associate we earn from qualifying purchases.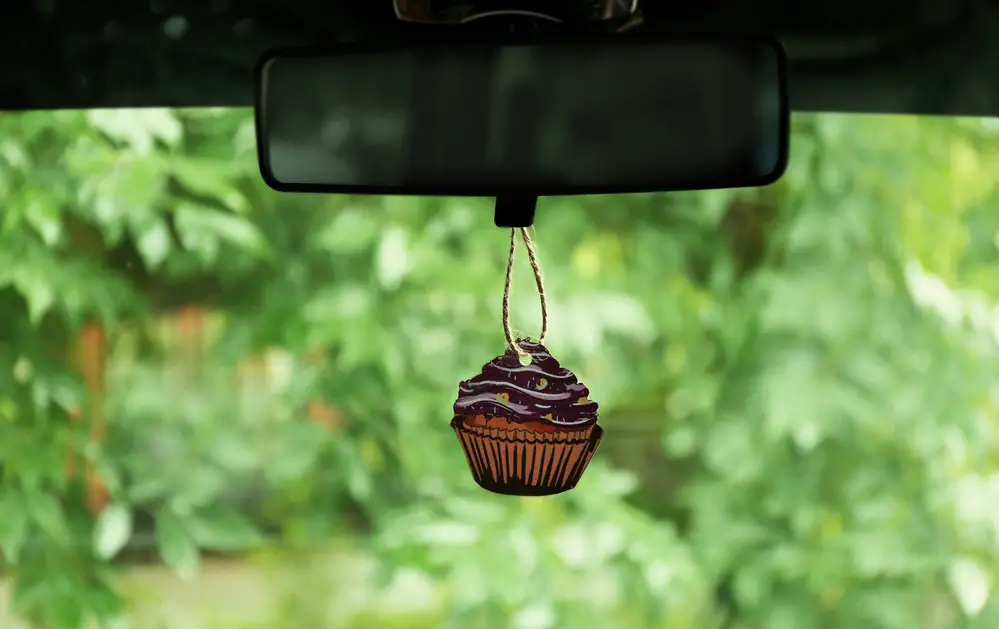 Most adult individuals in our society today own their own vehicles. Since most of the time we spend with our cars is on the inside, we should pay special attention to the cleanliness of our car's interior. Unfortunately, most adults neglect the interiors and dirt, grime, stains, dust, and odors accumulate inside. We need only the best car air fresheners to eliminate odors that may stay behind even when we finally clean inside our cars.
Though car air fresheners are affordable products, one can pick up at almost any store, the market for good quality fresheners is vast and can be overwhelming to someone who may not know what they want. Our purpose for sharing this article with you today is to help you decide which type of air freshener you may want and which strength will best suit your needs.
Product FAQs
We gathered and answered a few of the most popular and frequently asked questions from curious customers looking to freshen the air inside the interior of their cars. There is more to buying and choosing car air fresheners than most people realize, and we are here to help you familiarize yourself with the market so you can choose the best option that will last you the longest, have a scent you enjoy, and take the form that will best suit you.
1. WHAT ARE CAR AIR FRESHENERS FOR?
You may not realize it because you sit in your car every day and become nose blind, but neglected car interiors become filled with dirt, debris, bacteria, and odors. They get trapped in your car when the windows are up and bake in the sun when the car is not in use. Some odors cling to the seats and floor of your car even after a thorough cleaning, and the only way to get rid of the odors is to fight them with better and more powerful scents. That is where helpful air fresheners come in! They are an easy, affordable, low-effort solution to smelly vehicles and have different forms and strengths depending on what you need.
2. WHAT KINDS OF CAR AIR FRESHENERS ARE THERE?
There are sprays, cardboard ornamental fresheners that hang from the rearview mirrors, scent bags, vent clips that go in front of your A/C vents, cans of gel scents, and steam dispensers. These unique patents all have different use cases and strengths of scent depending on what you need.
3. HOW DO I CHOOSE THE BEST CAR AIR FRESHENER FOR ME?
If you are someone who has lingering odors in your car from years of neglected dirt and grime, sprays and diffusers will be your best bet. There are even a few high-quality cardboard fresheners out there that are meant to be long-lasting and eliminate any and all existing odors. If you are someone who regularly keeps up with the cleaning of your car but stagnant air tends to make your car smell stuffy, vent clips and scent bags are good options that are pleasing to look at and activate anytime your car is on for fresh-smelling scents for months on end!
4. WHERE CAN I BUY CAR AIR FRESHENERS?
Air fresheners are common items and can be found at almost any store. The best car air fresheners are sold at automotive accessories shops such as O'Reilly's, Advance Auto, and NAPA Auto Parts. Online sites such as Amazon offer all brands at competitive prices and non-biased customer reviews as well as testimonies from the manufacturers, but for scent-dependent items such as car air fresheners, we recommend you familiarize yourself with what scents you like before buying. It may be more beneficial for some to shop for air fresheners in person so they can get a sense of what they will enjoy.
5. OVERALL PRICE RANGE OF CAR AIR FRESHENERS?
Air fresheners are typically affordable items costing about $10 or less, but online prices are for bulk items in packs of twos and threes and more high-end items such as bags and ionizers will be upwards of $20 because of their durability and versatility.
How We Reviewed
We based our top ten car air fresheners on the following parameters: the product's key features, its pros and cons, the price, where to buy them and find more information on them, and their respective Amazon reviews. We hope the thorough reviews on our list help you understand which items are the best and worth buying. Our team spent much time and effort to bring you this non-biased best-of list and we are proud to present it to you now! We reviewed:
Ozium 804282 Outdoor Essence Scent Gel
Citrus Magic Solid Air Freshener Fresh Citrus
KubeScent Car Air Freshener-Maraschino Cherry
Chemical Guys AIR_101_16 New Car Smell Premium Air Freshener and Odor Eliminator
Febreze Car Air Freshener
One Point Zero One 4 Pack Natural Air Freshener
BIGFOOT Air Freshener
Car Air Purifier Ionizer by Earth-Air
Bamboo Charcoal Car Deodorizer/Car Freshener Bag
FRiEQ Car Air Purifier
Comparison Table
[amazon box="B00RD982MO,B00DYVP2H8,B00U9TAVZQ,B002J7VX4Y,B0773J3MVY,B07CRB51XD,B01M9EFTUD,B00VB2DG66,B018HJMYSQ,B012CDEMFG" template="table"]
[amazon box="B00RD982MO"]
Amazon Rating

(3.7/5 stars from 239 reviews)
Features
Ozium is a trusted item to eliminate smoke and odor, and can fully absorb and remove such odors. Ozium is a heal-all solution to indoor and outdoor scent problems. It can be used indoors to freshen bathrooms, it can neutralize the scent of even the biggest rooms, and will be more than enough for your car. The convenient jar it comes in has vent holes in the lid so all you have to do is set it down and let it work its magic!
Pros
ozium is a long-time trusted odor eliminator

Convenient can for easy and long-term use
Cons
Passive solution rather than active spray
[amazon box="B00DYVP2H8″]
Amazon Rating

(3/5 stars from 155 reviews)
Features
This air freshener is formulated to not only offer a long-lasting fragrance but will also prevent the appearance of unpleasant smells as well. It will completely remove lingering odors that inconvenience us all and instead leave behind a fresh citrus fragrance we can enjoy! The convenient odor absorbers also come in scents such as cedar, lavender, and fresh linen in case citrus isn't your thing.
Pros
Available in cedar, lavender, and linen scents

Pack of three
Cons
Not a strong enough scent for neglected car interiors
[amazon box="B00U9TAVZQ"]
Amazon Rating

(4.3/5 stars from 27 reviews)
Features
This aesthetically pleasing model of air freshener gives out the powerful sweet smell of Maraschino cherries. As well as looking nice, the natural Beechwood cap will capture and diffuse the fragrance continuously so all you have to do is find a place to hang it.
Pros
No chemical solvents added

Will last up to 90 days or longer
Cons
The scent is too strong and overwhelmingly sweet for some
[amazon box="B002J7VX4Y"]
Amazon Rating

(3.3/5 stars from 1,719 reviews)
​Features
This freshener's unique formula makes the inside of your car smell just like a new car no matter how old it is. It achieves this with a combination of natural enzymatic substances that won't simply eliminate odors but will also prevent the appearance of new odors. Its concentrated formula allows you to get the desired air freshness with just one puff so the 16-ounce spray bottle will last you a long time.
Pros
No chemical solvents added

Will last up to 90 days or longer
Cons
The scent is too strong and overwhelmingly sweet for some
[amazon box="B0773J3MVY"]
Amazon Rating

(3.9/5 stars from 65 reviews)
Features
Febreze is a trusted and well-known brand that has been relieving scents for us for years. They have sprays, diffusers, candles, and many other convenient household items that treat our noses with refreshing scents. The Febreze brand has countless scent options so there's always a chance you will find something you like, whether it be original fresh scents, a new car smell, or exotic scents.
Pros
Amazon's Choice

Available in Gain Original, Island Fresh, Linen and Sky, and Hawaiian Aloha scents
Cons
Expensive

Vent clips may not be strong enough for extreme odors
[amazon box="B07CRB51XD"]
Amazon Rating

(3.6/5 stars from 22 reviews)
Features
The special formula of these fresheners allow them to be used for air purifying, odor absorbing, smell removing, and, of course, air freshening. One can use these inside the car, in the house, or even to freshen up a garage. These fresheners differ from standard ones not only by their eye-catching design but by efficiency as well. All you have to do is hang these up wherever odors offend and let the bags do the rest.
Pros
Versatile

Efficient

Esthetically pleasing

Good for different locations
Cons
Currently unavailable on Amazon

Natural ingredients may not be strong enough to eliminate certain odors
[amazon box="B01M9EFTUD"]
Amazon Rating

(3.6/5 stars from 19 reviews)
Features
This heavy-duty car air freshener has an iconic look that is easily recognized. The BIGFOOT brand is a trusted outdoor-strength freshener that will make odors a thing of the past. The refreshing pine scent will overpower your car without getting too poignant or unpleasant. The Bigfoot look allows these to be practical novelty items just as much as they are fresheners
Pros
Amazon's Choice

Clean pine scent
Cons
The overpowering scent may be too much for some people

Not available in other scent flavors
[amazon box="B00VB2DG66″]
Amazon Rating

(3.5/5 stars from 211 reviews)
Features
This ionizer offers a new way to deodorize air. It offers portability and versatility unlike any other items on this list. It takes deodorizing to a molecular level by sending out large amounts of negatively charged molecules that attach to positives and render them too heavy to float in the air. It does not just mask the odor, it cleans it and absorbs odors such as cigarette smoke, pet odors, and even viruses, bacteria, and other pollutants. All you have to do is plug this ionizer into the cigarette lighter and it will do the rest!
Pros
Versatile

Durable

Easy to use

Long-lasting
Cons
Expensive

No way to try before you buy

Some people find the scent isn't strong enough
[amazon box="B018HJMYSQ"]
Amazon Rating

(4.1/5 stars from 334 reviews)
Features
This eco-friendly, natural freshener bag has an odor-changing formula that is designed to remove odors and moisture by filtering bacteria, odors, and allergens without using any harmful chemicals. It's all natural! Because of its clever design, it will last you a lot longer than standard air fresheners would.
Pros
Amazon's Choice

Odor-changing formula

All-natural formula with no harmful chemicals
Cons
The natural formula may not be strong enough for some

Does not work well in direct sunlight
[amazon box="B012CDEMFG"]
Amazon Rating

​

It hasn't been reviewed yet– buy one and be the first!
Features
This is considered one of the strongest fresheners out there along with being one of the most technologically advanced models. This works a lot like the Earth-Air ionizer because it also produces negative ions that improve air quality by destroying odor-causing particulates from the air. It has a controllable negative oxygen ion output and will get rid of any smoke smell or stale odor you may have.
Pros
Technologically advanced model

Controllable negative oxygen ion output
Cons
No way to try before you buy

No Amazon reviews
The Verdict
There are many car air freshener products out there and we hope our top ten list will help the market seem less overwhelming. If you are dealing with neutral odors or faint odors in your car and you just need an extra scent to tip the scales, our cheaper options such as the scent bags or cardboard odor absorbers are good choices for you.
If your car odors are from years of neglect and stagnant air, more active options such as sprays are a good idea. If you can spare the expense no matter what your odor situation is, we highly recommend the ionizers like the FRiEQ Car Air Purifier and the Earth-Air ionizer. They are long-lasting versatile items and we don't think you'll regret the purchase. Pick out your favorite ionizer or favorite car air fresheners from our list and follow the Amazon link to buy one for yourself today.